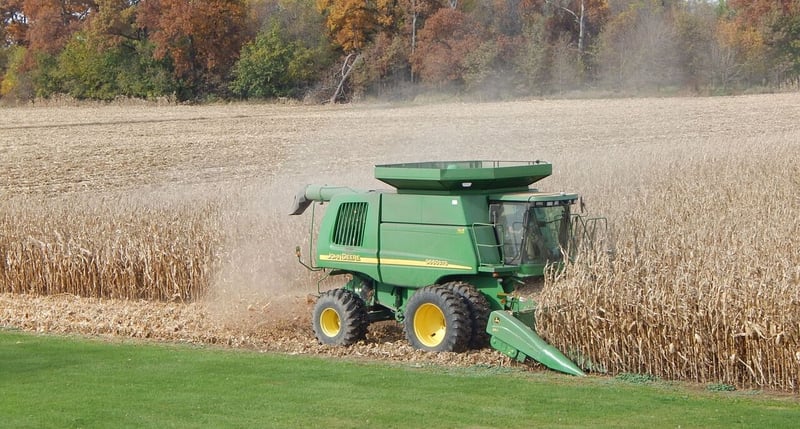 While summer is coming to an end, most of us are gearing up for a long harvest season. Regardless of what you grow­—corn, wheat, silage, beans, you name it—it's the busiest and most labor-intensive time of the year.
Even though you have all your equipment ready for the field, it doesn't mean you have eliminated all the risk of injury to you and your crew. The best-maintainted equipment can still cause the loss of a limb, and the reality is–carelessness can be fatal.
This is why OSHA requires tractor-safety training for those who operate these types of machines at first use and every year thereafter. Before you and your combine hit the fields, you need time to prep.
Here are 5 key tractor-safety steps you can take now in preparing yourself and your employees for a safe harvest season:
1. Review and follow your equipment manufacturer's operation manual.
Pay attention to warning information, detailed diagrams and component names and functions.
2. Assess the terrain on the fields you'll be harvesting.
Ask yourself and your workers: Has anything changed on the ground since last season?
3. Get your gear ready.
You and your employees need to protect yourself with the right type of personal protective equipment. Do they need to upgrade their work clothes with some new jeans and long-sleeve shirts? Do you have enough gloves for them in every situtation–hot, cold, sharp surfaces?
And no matter what crop you're harvesting, you know there'll be a lot of dust and debris, so you'll want to have safety glasses or goggles and a dust mask. Don't forget ear protection, too. As you know, you'll most likely have long hours of continuous combine noise.
4. Inspect your equipment.
Chances are you need to do a full 360-degree inspection of your equipment, such as checking all equipment guards. In fact, OSHA requires that all guards be in place when the machine is in operation. Some other equipment issues to inspect and consider:
Check for loose fasteners and latches, as well as broken hinges.

Make sure you have readily accessible fire extinguishers in every vehicle—at least, the 10-lb. ABC type.

Check your reflective markers on all corners of the combine and SMV signage.

Check all your lights—headlights and flashing lights on the top and rear.
5. Test your controls.
Lastly, when you feel good about your equipment's exterior, you're ready to test the controls. Turn on the engine, and check the brakes, throttle and steering.
Remember, if you suspect or encounter a problem while taking any of these steps, don't risk it. Hire a professional to inspect the equipment.
You'll have many more tractor safety tips to consider this fall, such as checking the safety of field operations and recognizing common combine hazards. These four steps are just a start in ensuring safe harvest operations.