When you and your harvest crew gear up for fall harvest, we hope you first follow our tips on how to prep your farm for this season. After you have, take a look at these common combine hazards, so you're as safe as possible on the job.

Combine hazards can be broken down into two main groups; external hazards and ones you can control. Below is a list of examples of each type of hazard.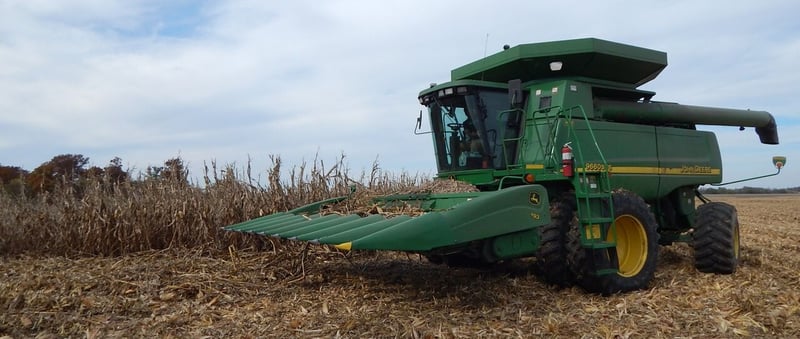 External Combine-Safety Hazards:
Heavy dust and debris particles—which can, over time, lead to lung damage.
Loud noises from grain dryers, ventilation fans, tractors and combines—which can lead to hearing loss, when endured with sustained frequency.
Discharge from choppers, distributors and spreaders—devices that can subject you to high-velocity field debris, if you're not cautious to avoid impact.
Fires—which can happen due to a number of causes, such as smoking, equipment exhaust or overheated parts.
Combine Safety Tips & Hazards You Can Control:
Shut off the engine or initiate a full shutdown, while doing maintenance, making adjustments or clearing plugged machines.

This safety practice can prevent you from being pulled into

a rotating blade at 12-ft. per second. That's an entire arm's length pulled into the machine in just a sixth of a second! A little awareness can also go a long way.
Pay attention to the size and height of your equipment. These are big machines; some nearly 16-ft. tall. Falling off can lead to serious injury. Don't forget that parts like the unloading auger add additional height, making trees and power lines even easier targets.
Use extra caution while attaching and detaching headers. Never do maintenance or other work while positioned underneath your combine's header without cylinder stops in place.
Be aware of your own limits. Harvest season is demanding. Fatigue from long hours, pressure to finish and bad weather can all reduce alertness and effectiveness.
We know you're in a hurry to get your crops out of the field, but you should take your time when it comes to safety or you could find yourself as another farm-related injury statistic.